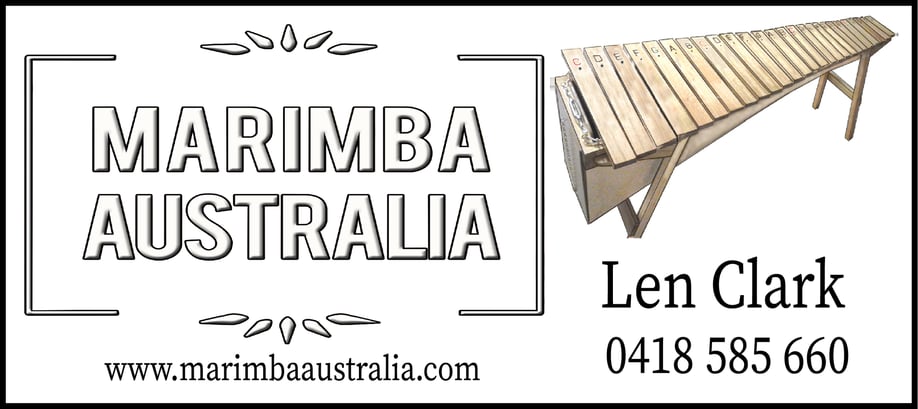 A little boasting here...
Bundoor Primary School
'Oh Len I have no words! …wait, yes I do…loads!!!!!
Prep to grade 6….they absolutely LOVE them and look forward to playing them every week! It has been particularly amazing due to the fact that the poor kids have been learning online for so long, and now, not only do they get to be back at school with friends, teachers and in classes they love, but they have the special 'treat' in the music room! All the students are so respectful and thankful of our new marimbas! We rotate in groups of 6 through marimbas, boom whackers, djembes and xylophones! The upper school have been playing an arrangement of 'Memories' (Pachelbels Canon) and 'Blinding Lights'- The Weekend. The junior school are playing the beat, rhythm and melody of simple songs. They all feel so special when it's their turn on the marimba and it's quite hard to move them on to the next class! So many come back at recess and lunchtime to have an extra play on them!

Once again, thankyou, we will cherish them always.
Kind Regards
Nerida Newell & Bundoora Primary School'
Elwood Primary School
​From Kaz K Sieger
'I am thrilled that I have a Mega Bass! It's sound and construction are fantastic. My primary school music classes have really benefitted from the playing, hearing and learning that it provides. I think that comes down to the level of effort that's gone into it's construction, the refinements in the frame and resonating tubes. Also, it's fun to play. Thank you Len'

Thanks Kaz. Awesome school, now with a great BIG marimba to play (Mega Bass).
Here is the letter I received from Gary, Levi's dad. An awesome family, and such a sweet letter and card.​​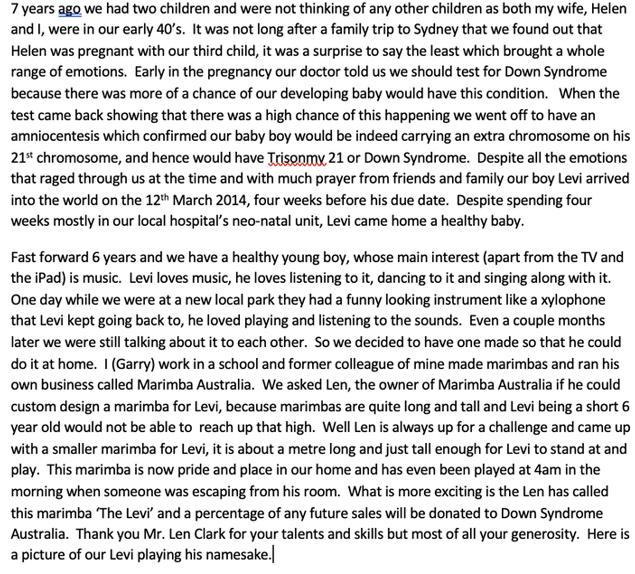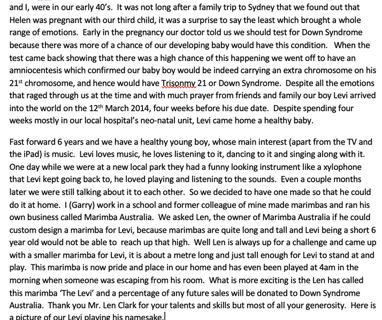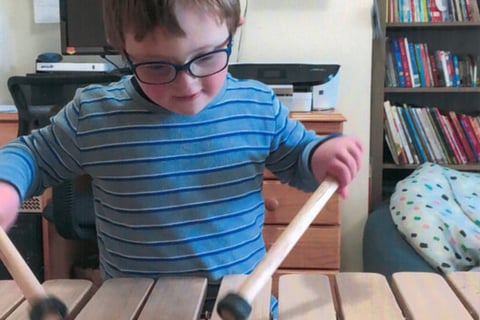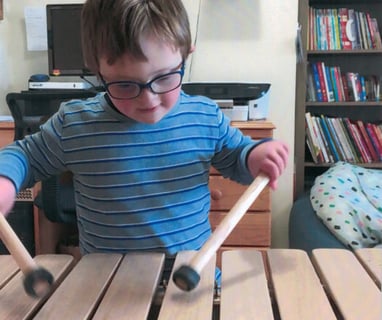 Rachel Bryan
St Bridget's Catholic School

Hi Len,
I just wanted to let you know that the Marimbas are absolutely wonderful! I felt like a child at Christmas time when I arrived at work to see them there last Friday. The students and staff absolutely love them! I will definitely be hoping to order more in the future. Thank you so much for your wonderful work. I was slightly anxious when I first heard about the flooding at the school and was extremely relieved to hear that my room was unaffected. Phew!
You are extremely talented in your craftsmanship and I cannot thank you enough for all of your work on these beautiful instruments.
Kind regards, Rachel.
Thank you to those I have displayed above, and to the many, many more who have contacted me and said how much you have appreciated the marimbas,
Len